Wow. Hey guys it's me, Sapphire Young. Like all the other girls in this network we are starting to take a more active role in our blogs so that we can better share our day to day lives. That means that we wont always post photos or videos but we will try to post something every day. We want you to enjoy it all and get to know us. So for my first post this week its all about Heels stockings and panties.
The photo below was actually one of a set that I really enjoyed. I liked it because of the way the lingerie felt on my body. While putting it all on for the photos I actually got hard and had to push my cock down in the the silky softness of the panties. Of course as my luck would have it as my fingers pushed my cock down, my cock got even stiffer because it thought I was caressing it. So it took that much longer for me to lose the erection for the photos.
Like the look of my lingerie? Click here to buy some for your girl or for yourself. —> Click here Now <----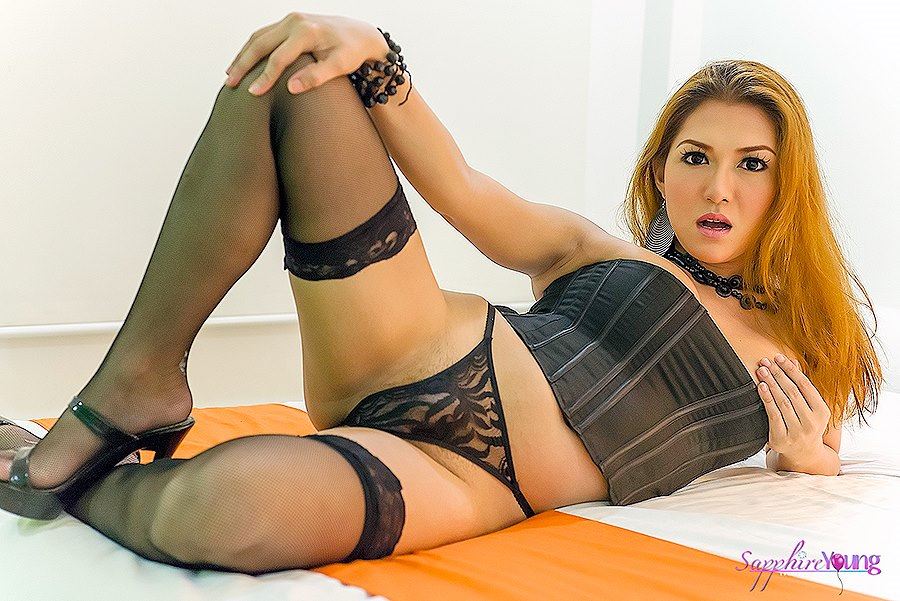 I am looking for some honest opinions on this sample photo. Its a bit smaller than the other ones but It's for sharing with you. So make sure and comment below. Let me know what you think about it. Be specific. For instance, I love my hair and sexy little smile in this photo. I think that besides the heels stockings and panties its the sexiest part. Its a mix of shock and also a hint of a mischievous smile. But that's just kind of how I am. Jijiji
Oh yes I forgot to mention that the girls and I wanted to make sure to thank you all for being so helpful and consistent in this difficult time. We know that hard times have landed squarely in the laps of a lot of people. I am one for instance. Right now I am residing in the Philippines and things have been hell. Lack of tourism has killed the economy, then the president is allowing some really bad things to happen in an effort to clean things up. Finally the storms that just hit with devastating force. However if I can remain strong so can you.
Make sure to support your favorite girl in the net work with great comments on her blog. Share the website address with friends and or post it on your twitter, facebook or Instagram.
XOXO.
Sapphire Young.
Buy the way guys you can shop online for some lingerie for your girl. Click here now!