Hey guys. I wanted to talk about this topic a little because its such a natural thing. Masturbating to porn is not a bad thing even though some people think that it is. Its about being inside your own head and imagining that you are with the girl in the scene. Maybe its a GG or a hot trans girl like me! Wink Wink! No matter what sort of porn it is, its good for you to enjoy. However if you can enjoy it with your girl then its all the better. Honestly.
Imagine you are laying on your bed like I am in the video below. You have your laptop or phone propped up and you cock in your hand and you are stroking it. Now what happens if your girl walks in? Yeah most of the time they get pissed. So grab her. Be gentle but make her sit down with you. Put her hand on your cock and make her stroke it for you. Then reach down and put your hand between her legs. Now if your lucky you are going to find her cock there. Hopefully getting hard and starting to thicken. If so free that cock from her panties and start doing to her what you see in the video. Then have her do the same to you. Its going to get super hot. Go with it even if you have do to things you have never done before. Masturbating to porn is hot and you will love it.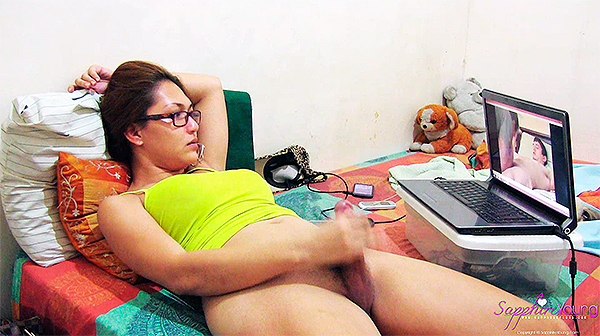 Hope you enjoy getting off this way as much as I do.