Beautiful Sapphire Young! So yeah this is the amazing and also sensual Sapphire Young. The Beautiful Sapphire Young! She is a ladyboy or tranny or shemale what ever word you use, that you wont soon forget. With perfect hair face and lips. As well as a great set of tits a tight ass! And not to mention that lovely cock she enjoys playing with so much.
Take a look at this sample clip and see what you think about it. It is much smaller than the ones in the members area and also a lower quality. But you get the idea of what its like to see and watch Sapphire Young when she is naked. She is always hot and horny so keep that in mind as well.
Just so that you know. The sofa she is sitting on is a window above a shopping Mall. In part of the video Sapphire is close to the window and can be seen from below. If you listen to the voiced in the back you can hear someone commenting about her big shemale cock.
So now that you have a basic description of Sapphire take a look at the video below and also the photo.
Click here to see more of this set!
Oh and don't forget this photo below! How hot and also sexy is Sapphire?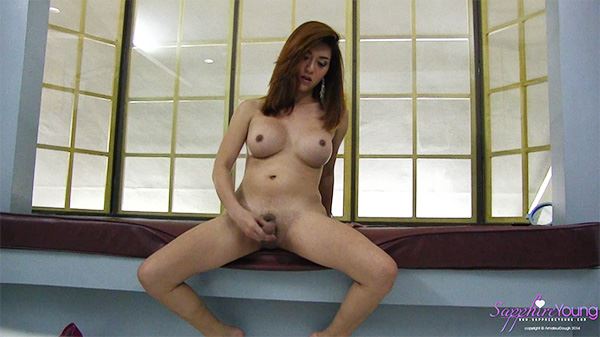 Click here to join her members area right now.
Or you can also check out other samples here on the blog!